Mon/Thur, 9am – 12pm
June 4 to July 20 (no rehearsal Jul 4 week)
$400 (includes all classes, materials, and one private lesson)
Register early! $50 off until Apr 2, $25 off until May 4
Secure your spot with a 25% deposit!* (balance due by May 24)
For more info/to register, e-mail: kylelisspiano@gmail.com
Installment payment plans available, contact for details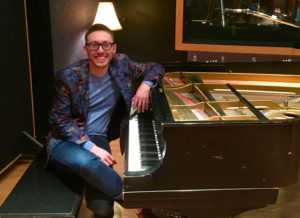 Do you love jazz band, but don't have a small group to jam with? Don't know how to put together your own band, or want to improve your confidence as an improviser? This Summer Jazz Combo Intensive is a perfect opportunity to do all the above and more! In this 6-week camp, you will sharpen your jazz skills, motivated by Kyle's inspiring instruction that comes from his many years of professional background and experience. This program will place a special emphasis on mastery and building the proper foundation for a life-long exploration of jazz music. Through digging into the many facets of musicianship that contribute to fluency in jazz, you will be empowered to refine your craft and find your voice on your instrument!
Program includes:
• Two three-hour sessions per week (36 total hours of instruction in program!) that highlight rhythmic/ear/theory training, groove exercises, conceptual improv instruction, jazz history, listening, and group playing
• One hour-long private lesson per student enrolled (additional lessons available for purchase at discounted rate of $30/hour)
• A performance at the end of the program to showcase student progress
• Maximum 6 students per combo, to ensure a high-level of personalized instruction and attention
• First combo rehearsals will be Mon/Thur. If first combo fills up, an additional combo will be added on Tue/Fri, and auditions will be held to place students based on current ability level.
*25% deposit is non-refundable. Cancel by May 24 for a 50% refund. After May 24, all registration is final and non-refundable.
Samples of Kyle's Jazz Playing
A solo piano version of the classic jazz standard "Body and Soul."
---
Excerpts from Kyle's Chicago College of Performing Arts senior recital. Featured are jazz standards and contemporary pieces, an original ("Blue Rhodes"), and a nonet arrangement of Joe Henderson's knotty "Inner Urge."
---
Lissin' was Kyle's high school jazz quartet, which he composed the majority of the music for, booked, and managed. This is a compilation featuring the best of their three albums. All tracks were recorded between Kyle's sophomore and senior year of high school.